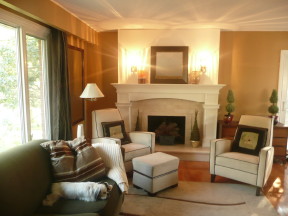 STAGING TIPS FOR SELLING YOUR HOME IN THE FALL
Most sellers listing their homes in the early fall market want to be moved before the holiday season starts so that they may enjoy the festivities in their new home.

What can you do to your home to make it shows at its best in the fall season?

1. Get new pillows for your sofas and chairs. Textured fabrics in warm jewel tones will warm up your room. Add a luxurious throw.

2. Add new candles to your room with great fall scents like pumpkin or apple spice. Do not leave candles lit if you are away from your home for a showing.

3. Change your artwork or decor. Vivid paintings will brighten up your rooms on dark, dull days.

4. Change your bedding. Replace your summer duvet cover with a warm, cozy comforter with an extra woolly blanket lying at the bottom of the bed.

5. Add an area carpet to hardwood floors in living room and bedrooms.

6. Buy some new luxurious towels and hang them just for showings.

7. Change your shower curtain and liner and don't forget the bathmat.

8. Add a new fall wreath to the front door.

9. Place some seasonal plants in an urn or in the garden.

10. Rake the leaves and clean up the deck or patio. Throw away old hanging baskets.

And don't forget, your house doesn't need to be on the market to make use of the tips above. Making seasonal changes to your decor gives your home a fresh new look and puts you in the mood of the season. All of this can be done with a limited budget. Go searching in the basement, crawlspace, garage (do you know what's in there? You would be surprised at what you can recycle. Remember the glassware, vases, candles you received as gifts? Now might be the time to find a "home" for them. Many sellers are nervous about listing their homes for sale in the late fall. They fear that there won't be any buyers looking to buy during the holiday season. My answer is that although there may be fewer showings, they are usually quality showings. Usually people looking at homes during the holiday season are serious buyers. Another bonus to having a home on the market at this time of the year is that they show well with trees, lights, wreaths, holly, fireplace decor and roaring fires (most are gas or electric today, but they still have the same effect). Again if you do have a wood burning fireplace DO NOT have a fire going if you leave the house for a showing.
Contact me so we can get started!
Jo-Ann Henry
301.536.7971 (direct)
JoAnn@JoAnnHenry.com